One of Lazio's most iconic pasta dishes made with only three ingredients; Guanciale, Pecorino Romano and Pasta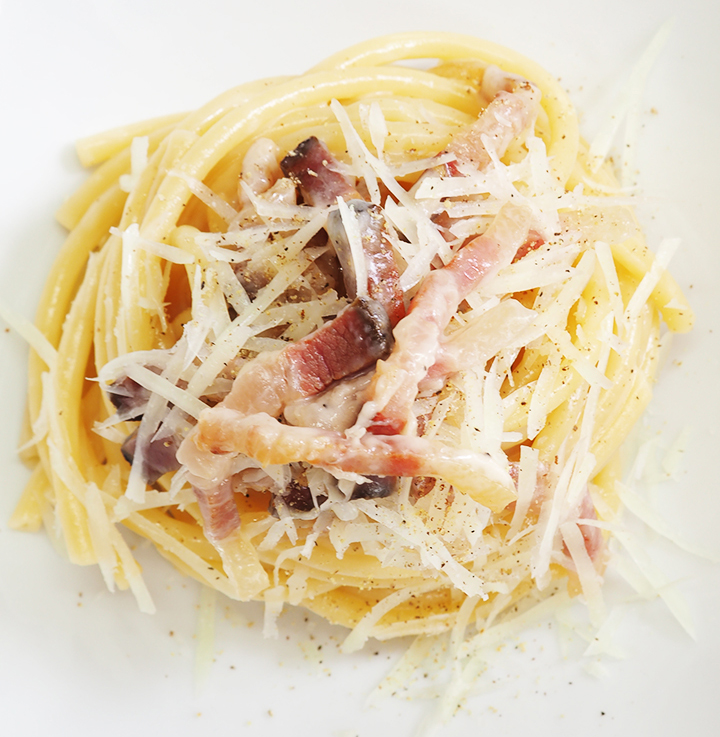 Pasta (bucatini or rigatoni)
180g
From this minimal recipe but full of richness of guanciale, other much-loved Lazian pasta dishes are born. Carbonara has added egg, and Amatriciana brings tomatoes into the sauce after these were brought in Italy from South America. Guanciale and Pecorino Romano are quite salty, so we recommend to put less salt into pasta water.
1. Grate the Pecorino Romano
2. Cut the Guanciale thin removing the hard skin
3. Slowly heat the cut guanciale in a pan over a medium-low without adding olive oil, because the meat is fat enough to give the pasta a rich flavour. Cook it until fat has rendered and guanciale is golden brown and crisp.
4. Cook the pasta in a pot of lightly salted boiling water al dente, drain in prepared colander reserving drained pasta water
5. Add the Pasta to the pan, adjusting with pasta water as needed
6. Toss the pan or use tongs to coat the pasta completely in the rendered fat. Add two-third of the grated Pecorino Romano to the pan and stir to mix well
7. Remove from heat, add a few grinds of black pepper and toss again. Serve straight away with the rest of cheese on it.